Looking back at the best and worst of the split round.
PERFORMANCE OF THE WEEKEND – MELBOURNE CITY
Needing to finish the season on a strong note, Melbourne City proved they're still a team to look out for this season.
Coming into the game against Newcastle, Melbourne hadn't won at home since January. They also knew that their next two games were in Sydney and that they needed to take the home ground advantage while they could.
Well, they delivered this week and in a crushing performance almost completely battered the poor Jets side. The Jets could managed just one shot on target against Melbourne City's nine and while City weren't as clinical as they could have been, they certainly didn't need to be.
Melbourne held the ball for the majority of the game and were effective in their passing, linking up cleverly and then peppering the goal with shots. They displayed the kind of football that will be necessary for them to do well in the finals, sending a warning to Sydney and Victory.
Their win and goal difference also sees them assert themselves well above Brisbane who now have to chase both on points and goals if they wish to secure third spot at the end of the season.
City now face two tough weeks away from home against both Sydney teams but after their performance this week, they may just have the other two teams on edge. A great performance this weekend.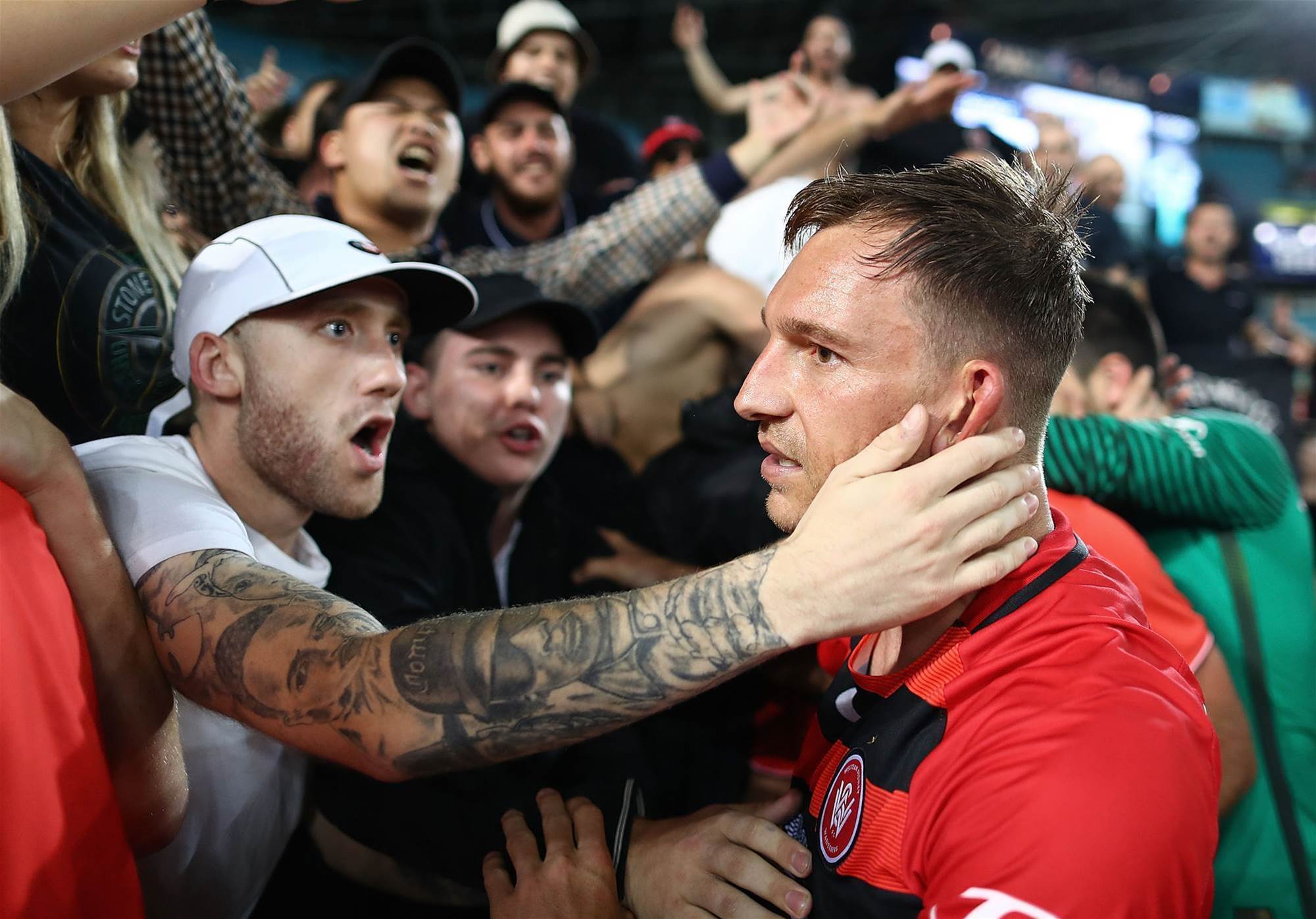 PLAYER OF THE WEEKEND – BRENDON SANTALAB
In what was a record breaking game for the striker, Santalab has now truly made himself a club legend.
Breaking Mark Bridge's record of most goals for the club, Santalab found the back of the net twice in what was a clinical display for the 34 year old. Despite only being on for just over an hour, he was able to prove he's still got it, impacting an important game for the Wanderers.
Thanks to his double, the Wanderers are five points clear of Wellington, given them an increasingly strong chance of making the finals come season's end. Santalab made it all possible for the club, bagging two great goal from just three shots all game.
Despite ongoing talks that he is getting on, he now sits inside the top five goal scorers in the A-League this season. He put away a clinical first goal and showed aggression and determination to score the second.
He's consistently proved he's the man to call upon in a tough situation and he showed that against Wellington this weekend. A great performance from the veteran and there's surely more to come from him.
GOAL OF THE WEEKEND – JAMES TROISI
Following the news he'd been recalled into the Socceroos squad, Troisi pulled out a beautiful goal that would have certainly comforted Ange Postecoglou.
Receiving the ball from Besart Berisha, Troisi found himself near halfway, facing his own goal, surrounded by Glory players. Despite this, he managed to work his way toward the Perth goal, shaking off three players before chipping past Marc Warren.
Having now found himself just outside the box, Troisi moved the ball to his preferred foot and struck a stunning shot that soared beautifully into the gaol and left Liam Reddy flat footed.
It was a stunning play from nothing, with Troisi showing incredible strength, dribbling, ball control and flair to score an absolute beauty.
The finish itself would have been perfect but the individual build up play showed what an immense player he's been for the Victory this season.
A beautiful goal and a well deserved goal of the weekend.
FLOP OF THE WEEKEND – PERTH GLORY
Perth had been doing so well for so long but it all came undone against Melbourne Victory and they did themselves no favours by going down so heavily. Having only lost one other game in 2017, they were one of the form teams going into this game.
They scored the opening goal and have more shots and more shots on target than Victory but couldn't make much stick. They left themselves vulnerable at the back and the Victory managed to score four goals from just six shots on target.
Their strong forward line was far from clinical and saw less than half of their shots trouble the keeper. Despite having several great attacking opportunities, they couldn't make anything of it and if they're going to do well in the finals this season, they really must get better in front of goal.
Following this round, they have conceded the most goals of any other A-League team this season. Coming up against the most prolific scorers in the A-League in Victory, it was bound to get out of hand once the Victory pegged a few back.
Coming up against Sydney next week, the Glory will have home ground advantage but will need to see far more improvement if they're to get anything from the game. A pretty poor performance this week from the Glory.